Whether you are shopping for yourself or as a gift for her, a silver bracelet can provide a real dash of glamour or style to almost any outfit. This post is aimed more at men, who may want a few tips when buying a bracelet for a woman in his life….but women may find it helpful as well when buying for a friend or family member.
As with any style of jewellery that you buy, the most important thing is that it is the right fit. This sentence can have two meanings. A bracelet should fit the wearer's wrist and also their style of dress and personality.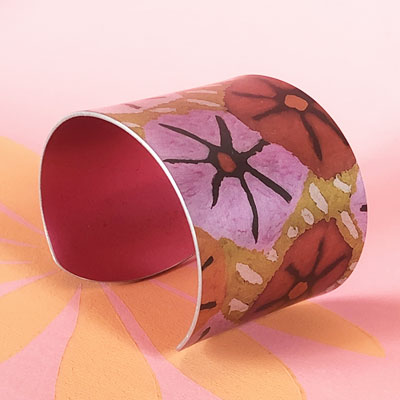 Here are a few tips we can offer.
Think About Size
While you might not know the size of her wrist exactly, it is an important thing to consider. You generally can't change the size of hard bangles and bracelets. If too big, it will fall too far down on her hand. If too small, she won't be able slide it over her hand or fit around her wrist. If you think her size is medium, then our range at Crowded Silver will most likely fit. If still a little unsure, you may consider a cuff bracelet as some of the cuffs have some flexibility and can be squeezed smaller or opened up more.
Some of our Australian bracelets can be ordered to size and if doesn't fit, you return it and we have one made to size. Remember, she will only truly appreciate it, and wear it, if it fits her well.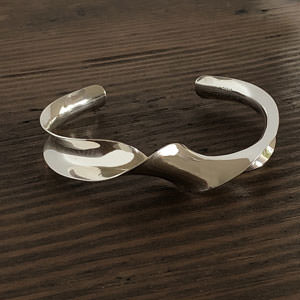 The Next Consideration Is Style
Generally, the bracelet is the overall term and you can then have different bracelet styles, each with its own name. That might include silver cuffs, silver bangles, or link and chain bracelets. Here is a brief explanation of each, in case you are unsure of the difference.
Silver Bangles – A bangle is a closed-loop bracelet. There is no clasp or fitting to make it adjustable. To take it off, it has to slide over the hand. Bangles are usually thin and a woman will often wear several together.
Cuff Bracelet – A cuff bracelet (or cuff bangle) has an opening and is not a closed-loop. These slide over the wrist as opposed to over the hand. Cuff bracelets may have some flexibility in the silver making them easier to put on. They are often wider than bangles and can be quite chunky and bold.
Silver Bracelets – Bracelets have interlocked links and fall softly around a wrist. They have a clasp that is opened when putting it on or taking it off. A link bracelet can have larger and chunkier links, whereas a chain bracelet usually have smaller and more delicate links. They are a common style and can hold stones, crystals or charms.
Does Colour and Silver Finish Matter?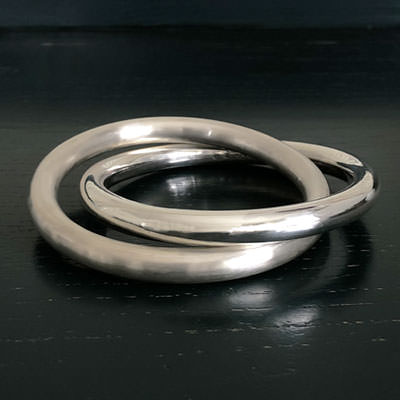 Silver is a very versatile colour and will look good on any skin colour, pale or dark, young or old. Many women with pale skin prefer silver over gold as it is more complimentary and stands out more against their skin.
Silver will also go with any colour of her outfit. It will look striking against black, pink, green or any colour, whereas gold can blend in too much with some colours. It is also now very common to mix and match silver and gold jewellery, which gives you the freedom of choice.
Silver jewellery can have different silver finishes such as polished silver, matte silver or darkened silver (oxidised silver). Matte silver jewellery tends to be more contemporary and polished silver jewellery more traditional so consider her style when buying a gift.
A Final Tip
While you might want to give her a memorable gift, going too far away from the jewellery style that she usually wears, may come with the risk that she doesn't like it. You want the bracelet to evoke good memories for her and to be worn often so that initial WOW is so important.
We sell a wide variety of silver bracelets in our online store, including all the styles mentioned above. If you are buying it for a gift, rest assured it can be swapped if, unfortunately, she decides it is not quite right for her. Of course, if you have any questions before purchasing any of our jewellery, then simply email us and we will do our best to help and advise.